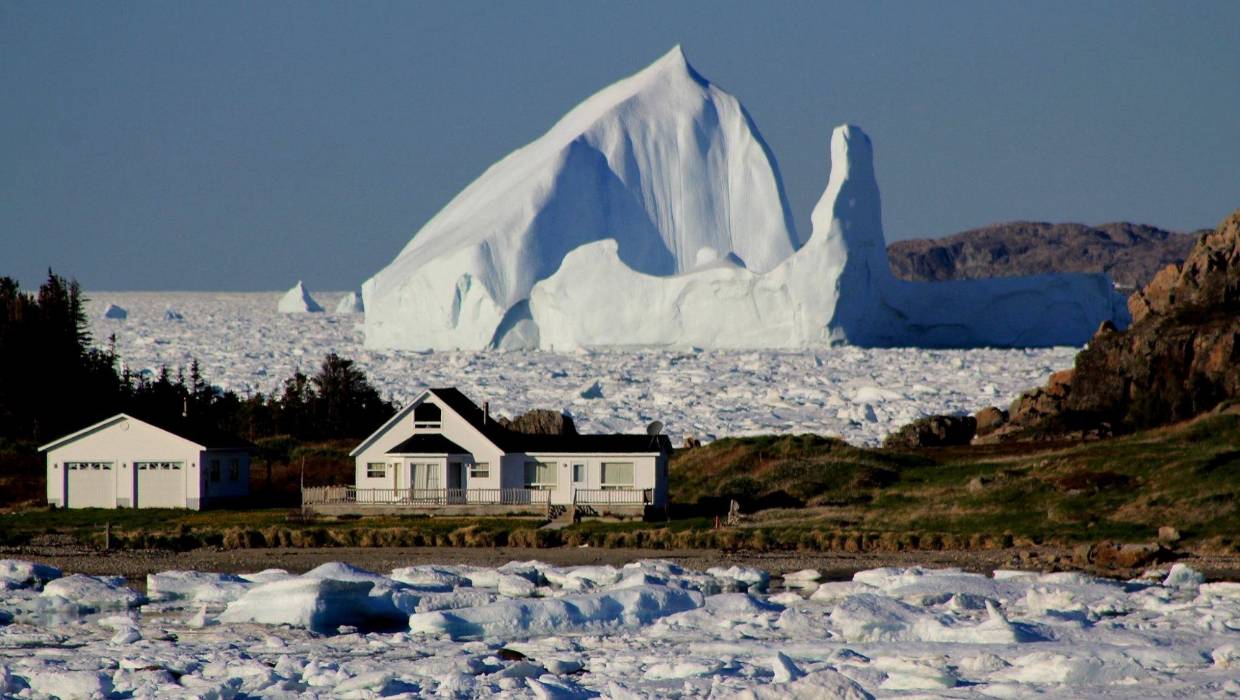 The course concluded with a study tour to Newfoundland and Labrador, Canada (June 6 -14) to learn about the glacial geology shaped by melting ice sheets at the end of last ice age, to hike in Gros Morne National Park (a UNESCO World Heritage Site) to learn about The Tableland, one of the only areas on earth where the mantle is exposed, to visit the only verified North American Viking settlement, to visit and explore a 15th century Basque Whaling site at Red Bay, Labrador, and see icebergs first-hand.
Caption for the above image: _A giant iceberg passes Little Harbour in Twillingate, Newfoundland and Labrador.
Geodynamics Newfoundland Field Trip 2019
June 6th - June 14th
Organizers: Sarah Das, Matt Osman, Andrew Daly, Sloan Coats, Alan Condron
Thursday, June 6
Fly from Boston Logan International airport to Deer Lake, on the west coast of Newfoundland, Canada, arriving at 3pm local time. We'll shop for various supplies (food, camp fuel etc.) and then drive approx. 1 hour north to spend the first night at Norris Point Hostel (Norris Point, NL A0K 3V0, Phone: 709-458-2896)
Friday, June 7
Gros Morne National Park (UNESCO World Heritage Site) 
Take the passenger ferry across Bonne Bay, from Norris Point to Woody Point, and hike the Tablelands via Winter House Brook, a barren and geological unique region composed of Peridolite that was formed from the Earth's mantle.
Winter House Brook, Tablelands, NL
Other options:
Hike Gros Morne Mountain (807m elev.) which is on the same side of bay as Norris Point (no ferry).
Visit Trout River – a landlocked glacial fjord formed by the land rising after ice from the last glaciation melted (~12,000 years ago)
In the afternoon, we'll drive a short distance (20 km) north along the coast, and set-up camp at Green Point; a small rural summer fishing community. If the weather cooperates, we'll have a beach fire in the evening.
Saturday, June 8
In the morning, we'll take a short walk from the campsite along the shore to a Global Stratotype Section and Point (GSSP), representing the division between the Cambrian and the Ordovician systems. After lunch we drive ~10 mins north to Western Brook Pond, where another short walk leads us to the head of this land-locked glacial fjord https://en.wikipedia.org/wiki/Western_Brook_Pond and from where we'll take a boat tour to see the 650m vertical Middle Proterozoic gneiss cliff walls of the fjord first-hand.
Western Brook pond
On the way back to our campsite at Green Point, we will make several stops at to view glacial moraines, raised beaches, and striations left by the former ice sheets.
Sunday June 9  (travel day)
We pack up camp and drive 2 ½ hours north to Saint Barbe to take the ferry across the Strait of Belle Isle - the waterway that separates mainland Canada from the island of Newfoundland. Once over, we'll head to Pinware River Provincial Park, where we'll set up camp for the night. Depending on what time we arrive we'll likely be able to explore the local area: There are deep-red sands along the road east of Pinware that were derived from glacial erosion of the red gneissic granite and deposited by glacial meltwater, as well as several sand dunes.
Monday, June 10
Today we visit Red Bay in Labrador, a Basque Whaling site and UNESCO World Heritage Site: Between 1530 AD and the early 17th century, this now rural fishing village was a major Basque whaling area, and several wreaks of former whaling ships are found in the harbour. We'll visit the whaling museum and take a 5 minute boat ride to Saddle Island to see the archaeological remains of buildings where the Basques worked and lived 400 years ago: https://www.pc.gc.ca/en/lhn-nhs/nl/redbay/activ In the afternoon, if we have time and the weather is nice, we'll hike the short "Boney Shore Trail" to gain a panoramic view of the region, before returning to our campsite in Pinware.
Tuesday, June 11
In the morning we take the ferry back to Newfoundland and drive approx. 2 hours north to visit the only authenticated North American Viking site at L'anse aux Meadows. That evening we'll eat dinner at the Great Viking Feast (http://theicebergfestival.ca/schedule/7pm-great-viking-feast-at-leifsburdir-st-anthony/), which is taking place as part of the local week-long "Iceberg Festival". We'll spend the night camping at Triple Falls RV Camp.
Wednesday, June 12
Options for this day might include going icebergs & whale watching (http://www.discovernorthland.com/)
Useful resource for iceberg finding: https://icebergfinder.com/map
We'll spend a second night camping at Triple Falls RV Camp.
Thursday, June 13
Today we drive back towards Deer Lake, ~5 hours to the south. Along the way we'll stop at several points of interest: at Port au Choix National Historic site we can visit ancient burial sites, settlements and view original artifacts dating back 6000 years ago that were left by the maritime Archaic people and Paleo-Eskimo (Dorset and Groswater) people's, long before the Vikings and Europeans arrived; At Hawkes Bay to the south we have an opportunity to view limestone pavements polished by glaciers; and at Arches Provincial Park there are rock arches composed of Ordovician aged dolomitic conglomerates that were formed by repeated wave action.
Arches Provincial Park
That night we'll stay at the Driftwood Inn, Deer Lake
Friday, June 14
Fly back to Boston, MA, early Friday morning.